Personalised Stationery
Jump straight to the Personalised Stationery order page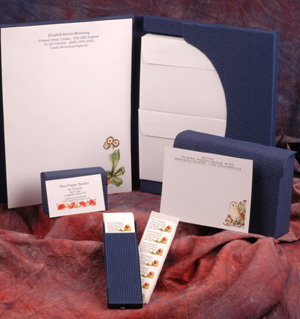 We are proud to say that our carriage costs are very modest: Any size of order sent within the U.K. costs: £2.95 - Europe £4.95 and to the rest of the world just £5.95
Countryside-Direct Personalised Stationery is that little bit different. Notepaper, Visiting Cards, Correspondence Cards and Self-Adhesive Address Labels are all decorated with Sheila's lovely botanical or wildlife designs. A utility item is immediately transformed into a beautiful gift object. Everything is printed with the latest digital printing technology to produce crystal sharp images on high quality paper and card and supplied with heavyweight envelopes where appropriate. To complete the picture, all items are packed in modern, dark blue corrugated packaging. We can post these items directly to your friend or relative passing on your greetings if required.
To see the range of available designs please click here

Visiting Cards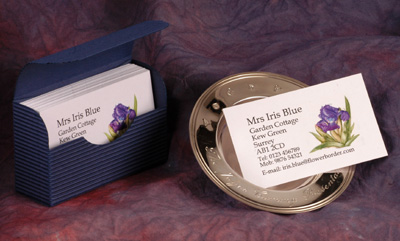 Help revive a classic Victorian tradition by carrying a visiting card when travelling. They make exchanging addresses, telephone and even E-mail details pleasurable and simple. Credit Card sized at 86x54mm (3.4"x2.1"), they are perfect for storing in your purse or wallet, or even the case in which you will receive the cards. 100 visiting cards in the wallet cost just £15.95, plus postage.



Headed Notepaper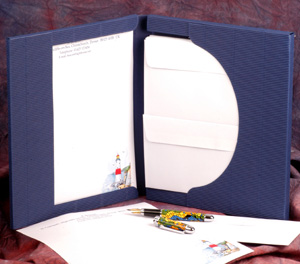 You will receive 40 sheets of high quality, printed notepaper. 265x210mm (10.4"x8.25") with your chosen design and details, plus 40 envelopes and 10 plain continuation sheets for only £22.95 plus postage. The attractive and sturdy packaging, makes this stationery the perfect gift for friends and relatives. The tall flower designs are particularly attractive on this notepaper. However, you may choose from a very wide range of designs when ordering; to really personalise your correspondence.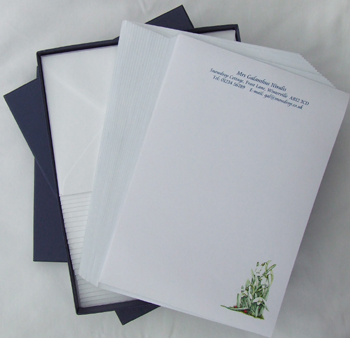 Also available are boxes of 30 sheets of A5 sized notepaper 210 x 148 mm ( 8.25" x 5.75" ) complete with 30 envelopes at £14.95

Self Adhesive Address Labels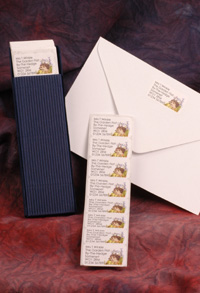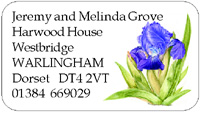 We supply Self-Adhesive Address Labels in a gift pack of 325 for £9.99 plus postage. The packet supplied will protect the labels when carried in your bag or briefcase. Alternatively, simply take one strip at a time to carry in your wallet or purse. The use of Sheila's lovely designs will show that an everyday product such as an address label can be transformed into a very special gift item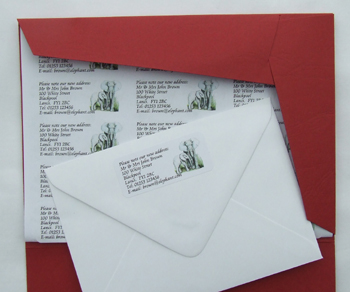 Also available are 210 double sized labels 64 x 28 mm ( 2.4" x 1.1" ) at £9.99. These are useful if more information needs to be printed e.g email, mobile phone, greetings, changed address etc.






Correspondence Cards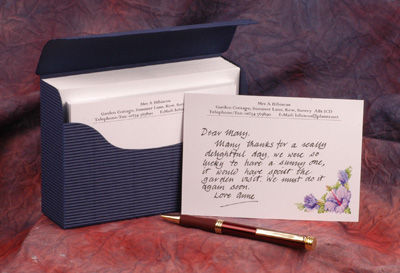 The ultimate gift for very special friends, 48 practical and attractive correspondence cards measuring 145x105mm (6"x4") are packaged with 48 matching envelopes. Presented in a lovely blue corrugated case as shown. Choose your design from the wide range of subjects available. Countryside-Direct correspondence cards are so useful for sending a short letter, greetings, thank you's and invitations. Literally everyone would find them useful and appealing. Don't forget yourself when ordering! At only £18.95 per box, plus postage they represent tremendous value for a beautiful and practical gift