Designs by Sheila Mannes-Abbott for Personalised Stationery, Kitchen Stationery and Gicleé Prints
Headed Note Paper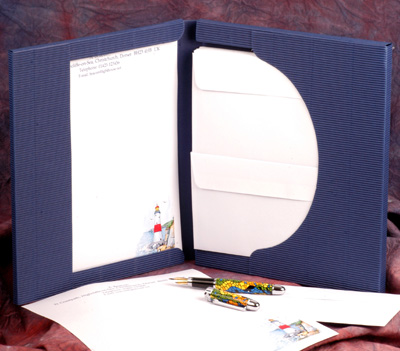 Notepaper Gift Pack
Printed on fine quality 100 gsm "Distinction elegance" bright white wove paper.
Paper size: 210 x 265mm, (8.25" x 10.5").
40 sheets printed, 10 plain run-on sheets and 40 envelopes.
Matching DL 'peal and seal' envelopes.
Presented in an attractive sturdy wallet.
The perfect gift for friends and relatives.
Orders normally despatched within 7-10 days.
Urgent requirements can often be supplied within a few days.
Special printing and individual requests undertaken, please ask.
Gift wallet of 40 printed, 10 run-on sheets and 40 envelopes @ £22.95








PO Box 29 Watchet, Somerset TA23 0WD Tel: 01984 633422
Edward@countryside-direct.com
Copyright Countryside Direct 2003 - 2020