Self Adhesive Jar Label
Countryside-Direct Self-adhesive Jar Labels add that finishing touch to home made jams, chutneys, pickles and preserves.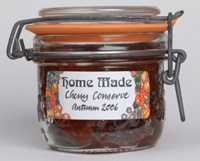 Self-Adhesive Labels 70mm (2.75") wide
Self-adhesive Jar labels available for all types of Home Made produce
Supplied in packs of 50 per design at £2.95 per pack
Larger orders can be supplied at a discount, please ask for details.
Self-adhesive Jar Labels are easily applied
A sheet of labels is available for your Spice, Herb and Dry Goods kitchen jars Each set costs £1.60
#4501 24 Herbs, #4502 24 Spices, #4503 24 Dry Goods, #4504 Matching plain labels.
Labels 70mm X 46mm (2.75" X1.1")